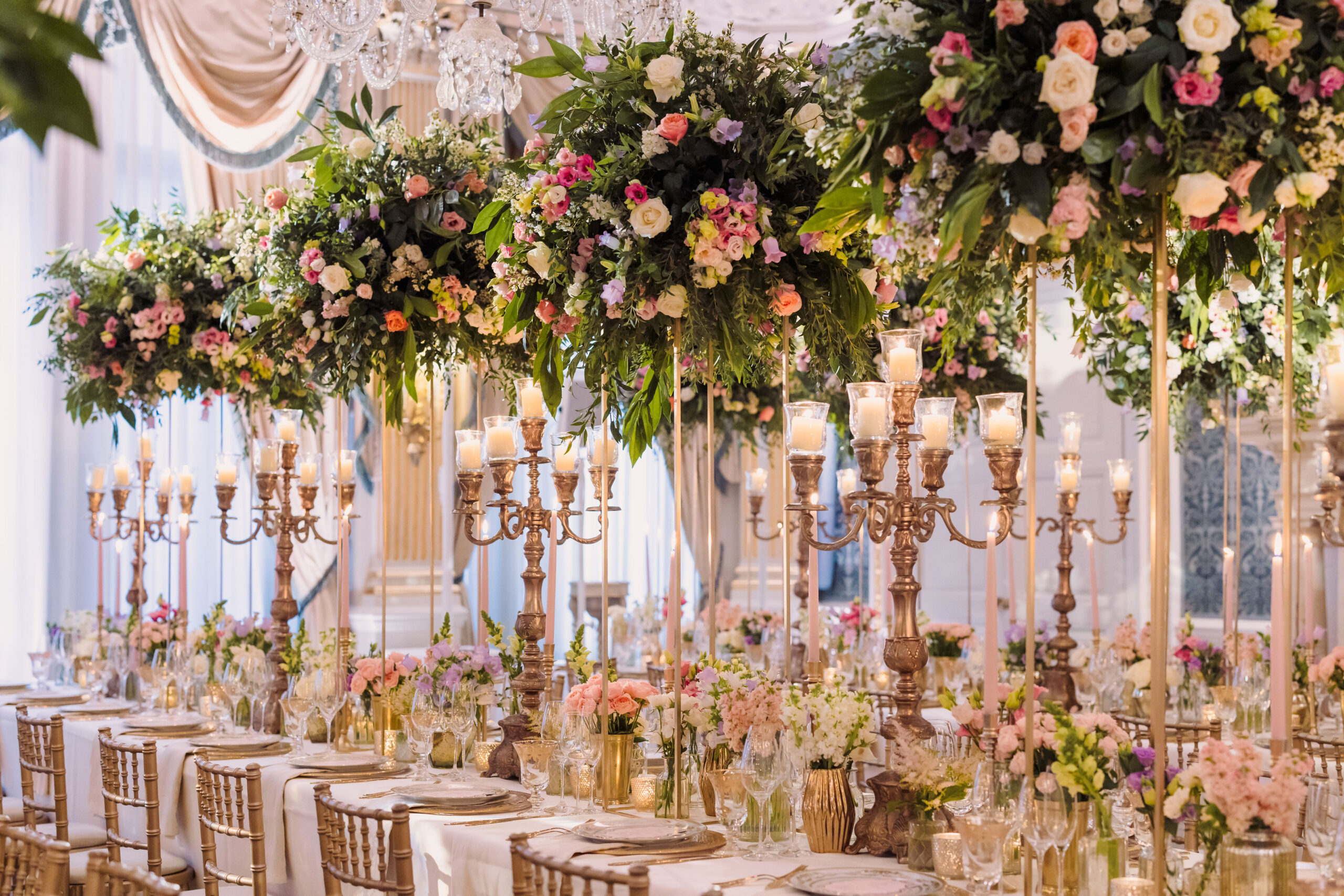 Tracy and Philip's glamorous wedding at Claridge's Hotel London
In the heart of Mayfair, amidst the pulsating energy of London, Tracy and Philip embarked on a journey of opulence and grandeur as they celebrated their love at the iconic Claridge's Hotel. With luxury floral designs, impeccable planning by Cranberry Blue Events, and an unforgettable surprise performance, their wedding day was a true testament to glamour and sophistication. As their trusted wedding photographers, we had the pleasure of capturing the magic and elegance of their extraordinary celebration.
Setting the Stage at Claridge's
Since the 1850s, Claridge's has been synonymous with understated elegance and unrivaled luxury. Stepping into its art deco interiors, Tracy and Philip found themselves immersed in a world of timeless beauty. The Ballroom, with its meticulously restored art deco features and exquisite craftsmanship, served as the backdrop for their grand celebration. Whether it was a lavish wedding breakfast or an intimate ceremony, Claridge's set the stage perfectly for their special day.
Luxury Floral Design
Tracy and Philip had a vision of elevating their wedding day with luxurious floral arrangements. Wildabout Flowers, renowned for their artistry, brought this vision to life. Elaborate tables adorned with oversized floral designs created a sense of grandeur, while mantelpieces draped in leafy foliage added a touch of natural elegance. The color palette of soft pinks, peaches, and ivory hues blended seamlessly with the opulent surroundings, transforming the space into a floral wonderland.
An Exquisite Experience
With the expert guidance of Cranberry Blue Events, Tracy and Philip ensured that their guests were treated to an unforgettable experience. From the moment they arrived at Claridge's, they were transported into a world of refined luxury and impeccable service. Every detail was carefully curated to create an atmosphere of elegance and sophistication, leaving a lasting impression on all who attended.
A Surprise Performance
As the evening unfolded, Tracy and Philip surprised their guests with an electrifying performance by samba dancers. The vibrant rhythms and mesmerizing movements added a dynamic energy to the celebration, ensuring that the party continued in full swing. The dance floor came alive as guests joined in, creating unforgettable memories and adding an element of excitement to the already glamorous affair.
Capturing Timeless Moments
As wedding photographers, our goal was to capture the essence of Tracy and Philip's glamorous wedding at Claridge's. From the intricate details of the floral designs to the candid moments shared between loved ones, every frame was a testament to the beauty and joy that filled the air. With our lenses focused on preserving the timeless moments, we immortalized the emotions, laughter, and love that permeated throughout the celebration.
Tracy and Philip's glamorous wedding at Claridge's Hotel London was an affair to remember. From the luxury floral design to the impeccable planning by Cranberry Blue Events, every element was carefully orchestrated to create an experience of unparalleled opulence. Claridge's served as the perfect setting for their grand celebration, while the surprise performance by samba dancers added a touch of excitement. As their trusted wedding photographers, we were privileged to capture the magic and elegance of their extraordinary day. If you are seeking a wedding photographer to document your own glamorous affair, we invite you to experience the artistry of David Christopher Photography and entrust us with preserving your cherished memories for a lifetime.